Group M: ABK Campus Stuttgart Killesberg
According to current trends, German universities are increasingly turning into school-like institutions. Due to over-regulation, politicization and strong connections to the economy, universities are likely to undergo major changes in the future. Added to that increasing digitization also has the potential to make university campuses obsolete.
Next to this impending change in the future, the ABK campus, like many other campus locations in the region, faces up-to-date problems. These include extensive renovations of existing buildings, the need for consolidation due to lack of space and the desire to bring together the various locations of the university. With more than 250 years of Academy history and centuries of growth, today's ABK campus structure separates places and people, and many areas of high potential are not used.
The question is how to develop a campus in a positively conceived future scenario for 2050. What will educational institutions look like and how will universities and education curriculum change.
Sharing experience – new possibilities for an interactive and inclusive community
The students of this project imagine the ABK Campus as a place of interaction. The campus is surrounded by very different residents – families, seniors, refugees from abroad and of course students. The most important goal of this project is to overcome the existing mental and physical barriers for an inclusive and active community. The gaps that make connectivity more difficult such as big streets are going to be closed and formed into public spaces. It's the idea of a free university where it is about research work, creative development and production – formed by a free-lance community that learns from each other. The multifunctional use is stronger, the campus is turned outside and links to the surrounding quarters. The new decentralized urban structure of the campus offers various spaces with different qualities. The aim is to attract all kind of residents and visitors by focusing on their commons and connect with each other through sharing needs and concerns. The combination of individual functions such as work, education, housing, leisure time, etc. and the change of the existing scale of architectures in this area enables function shifts within the built environment and their resulting potentials.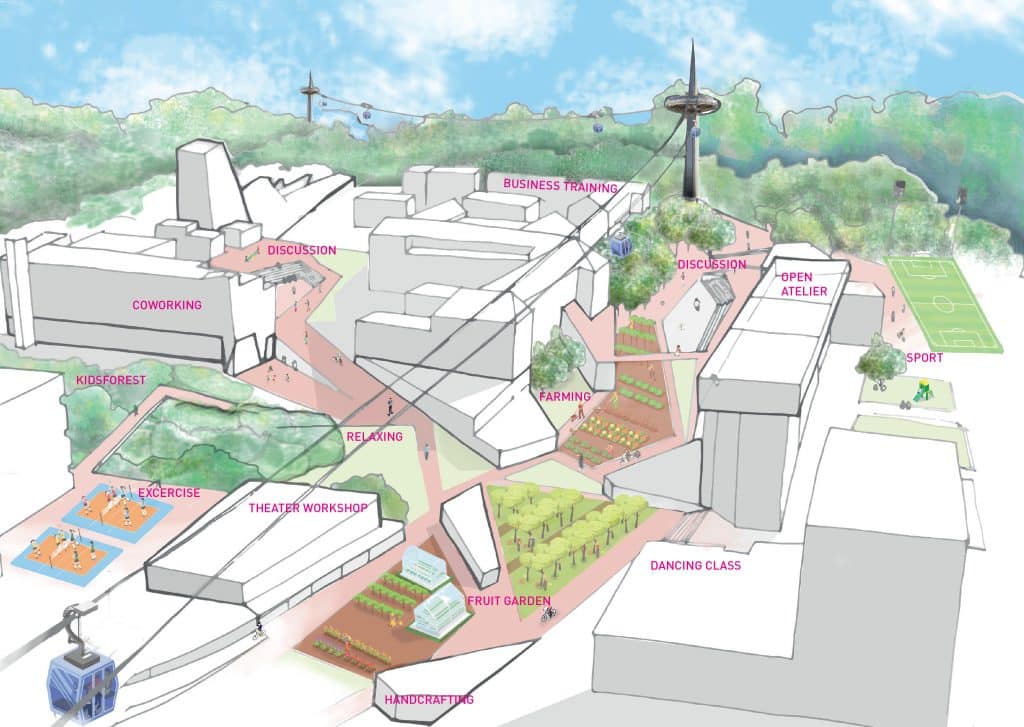 | | |
| --- | --- |
| Students: | |
| Marlene Franck | UNI Stuttgart |
| Juan Ramiro Ferreira | UBA FADU, Buenos Aires |
| Daniel Felipe Bobadilla Barra | UTFSM, Valparaiso |
| Benjamin Shaba | Mzuzu University |
| Nathalie Fricke | HfT Stuttgart |
| | |
| Teachers: | |
| Prof. Mark Blaschitz | State Academy of Fine Arts Stuttgart – Chair of Housing, Basics and Design |
| Sarah Behrens | State Academy of Fine Arts Stuttgart – Chair of Housing, Basics and Design |
| Ina Westheiden | State Academy of Fine Arts Stuttgart – Chair of Housing, Basics and Design |