Group H: Harbour Stuttgart
The harbour of Stuttgart as an industrial area has a special significance as a trimodal transport hub of the region. The goods arrive by ship, train and truck and leave the port, changing the mode of transport even day by day. Thus, this area is the hub of the Stuttgart region and the connection to the entire economic world. In contrast to other cities, there are no deserted areas in the Stuttgart harbour, on the contrary: the harbour is looking for new areas. In the last two centuries, industrial development has occupied very important areas of the original landscape in the city region of Stuttgart. The Neckar valley and floodplains in particular have turned into an industrial production area, which represents the wealth of the region. In short, these areas are the basis of automobile production, on which the region lives to a large extent.
The question is what the future development of the Stuttgart Harbour will look like. It is necessary to pursue the challenge of how to support the sustainable development of landscape and nature on the one hand and to integrate the indispensable functions of urban life on the other hand.
connecting neighborhoods in an industrial area
The students of this project propose to cover the port with a large floating infrastructure, which brings the two riversides of the Neckar together, while creating a new public space that can be found nowhere else in Stuttgart. The new structure offers a continuous green space, which extends to the green hills of the area and gives the opportunity to find new locations for public events, sports and nature. It allows also new ways of interactive simultaneity speed between the habitants and their ways of mobility, changing the dynamic of the urban area.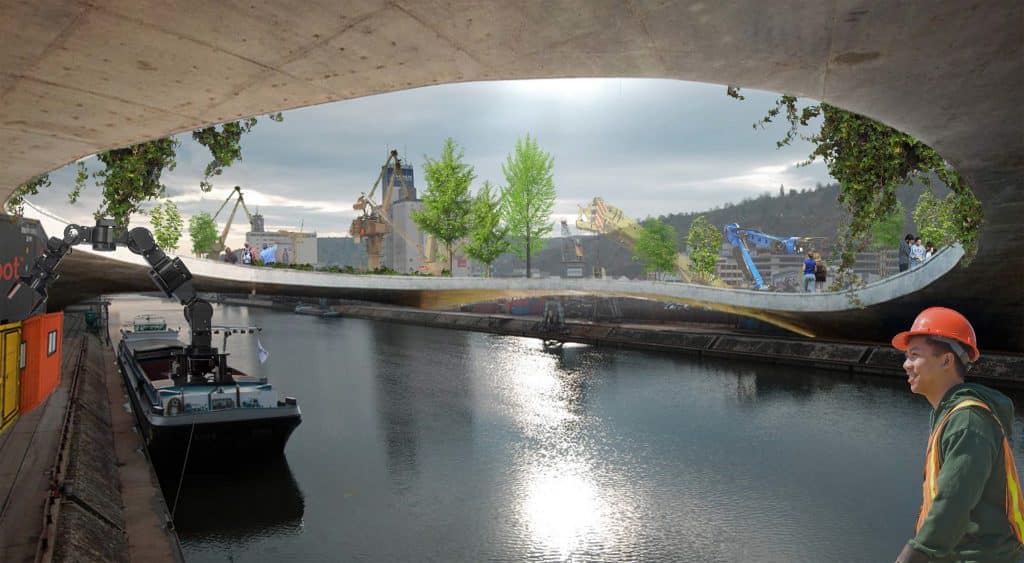 | | |
| --- | --- |
| Students: | |
| Maryline Berg | TU Kaiserslautern |
| Maria Sol Konrad | UBA FADU, Buenos Aires |
| Rocío Martita Soto Aguirre | UTFSM, Valparaiso |
| Praise Madeya | Mzuzu University |
| Ebru Dinc | ABK Stuttgart |
| | |
| Teachers: | |
| Prof. Cornelia Bott | Nürtingen – Geislingen University – Faculty Landscape Architecture, Environment and Urban Planning |
| Prof. Siegfried Gaß | Nürtingen – Geislingen University – Faculty Landscape Architecture, Environment and Urban Planning |