Group G: Goldberg Station
The Goldberg Station is located in a suburban area in the outskirts of a prospering agglomeration in an economically strong European region. Very big employers and global players are an additional local reason for growth. That means for the next years among other things great migration gains over several decades, high tax revenues and an increasing demand for living space per inhabitant. Together with still effective, but no longer sustainable planning approaches, this led to extraordinary growth in the settlement area. The result is a low to medium density of settlement on former agricultural land. This development is inevitably accompanied by the dominance of the private car and leads to the loss of active mobility and public space.
The question is how to transform the density of the area around Goldberg and with which design measures the public space can be revitalized. How can mixed use and diversity within the urban fabric be created, as well as a sustainable mobility infrastructure with less dependence on the car.
City Hub
The students of this project are developing a new central mobility hub, which is marked with buildings next to the Goldberg S-Bahn station. To facilitate the transition from the station to the city and office buildings, skywalks connect the mobility hub to opposing buildings. A key point is also a kind of green coverage over the highway, which reduces the noise and air pollution. In addition, it can be used as public space. Another key to mastering growth and preserving green spaces is the gradual transformation of existing residential areas. Living sustainably means reusing existing structures and habitats.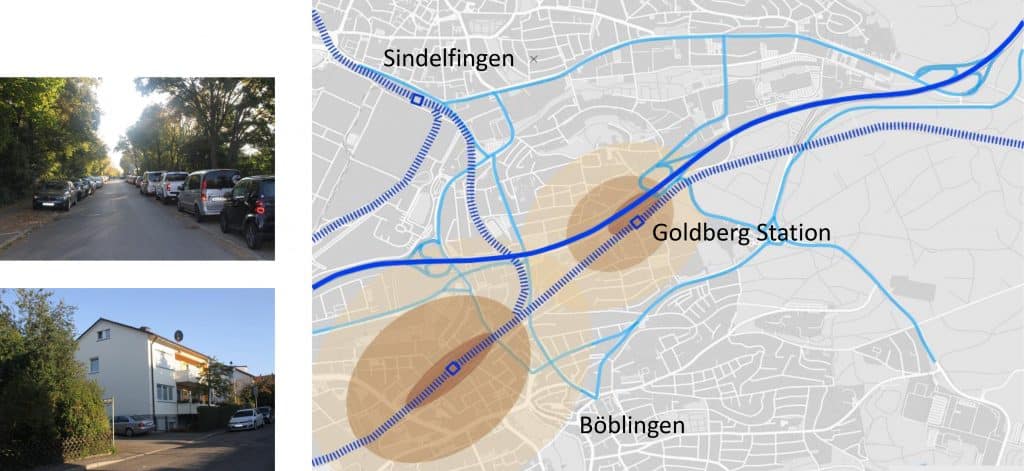 | | |
| --- | --- |
| Students: | |
| Marie Gunst | TU Kaiserslautern |
| Josefina Parodi | UBA FADU, Buenos Aires |
| Tomás Antonio Rubilar García | UTFSM, Valparaiso |
| Chikondi Lael | Mzuzu University |
| Marie-Theres Lück | HfWU Nürtingen |
| Arne Spranz | HfT Stuttgart |
| | |
| Teachers: | |
| Prof. Henning Krug | Nürtingen – Geislingen University – Faculty Landscape Architecture, Environment and Urban Planning |