Group F: ABK Campus Stuttgart Killesberg
According to current trends, German universities are increasingly turning into school-like institutions. Due to over-regulation, politicization and strong connections to the economy, universities are likely to undergo major changes in the future. Added to that increasing digitization also has the potential to make university campuses obsolete.
Next to this impending change in the future, the ABK campus, like many other campus locations in the region, faces up-to-date problems. These include extensive renovations of existing buildings, the need for consolidation due to lack of space and the desire to bring together the various locations of the university. With more than 250 years of Academy history and centuries of growth, today's ABK campus structure separates places and people, and many areas of high potential are not used.
The question is how to develop a campus in a positively conceived future scenario for 2050. What will educational institutions look like and how will universities and education curriculum change.
Education is the Bridge for a cross generation community
The students at the project see the State Academy of Fine Arts as a place that connects local actors across the campus network. The idea is a modular system with different buildings distributed around the environment, integrated or improved in existing buildings. A skywalk will connect these mixed buildings at different levels. In order to create a center and a vibrant public space, the buildings will include event spaces, community apartments, sports venues, cafes, public health services, private shops and university administration, dedicated lecture rooms and student workspaces, green spaces for urban agriculture and recreational areas. Added to the structure of mixed use and public space there is a mobility hub for eco-friendly mobility. A central distributor for all transport needs, including existing mobility systems such as bus, tram and train but also autonomous vehicles that run between the home and the hub. Any other car traffic intended for maintenance, storage and parcel delivery is organized underground.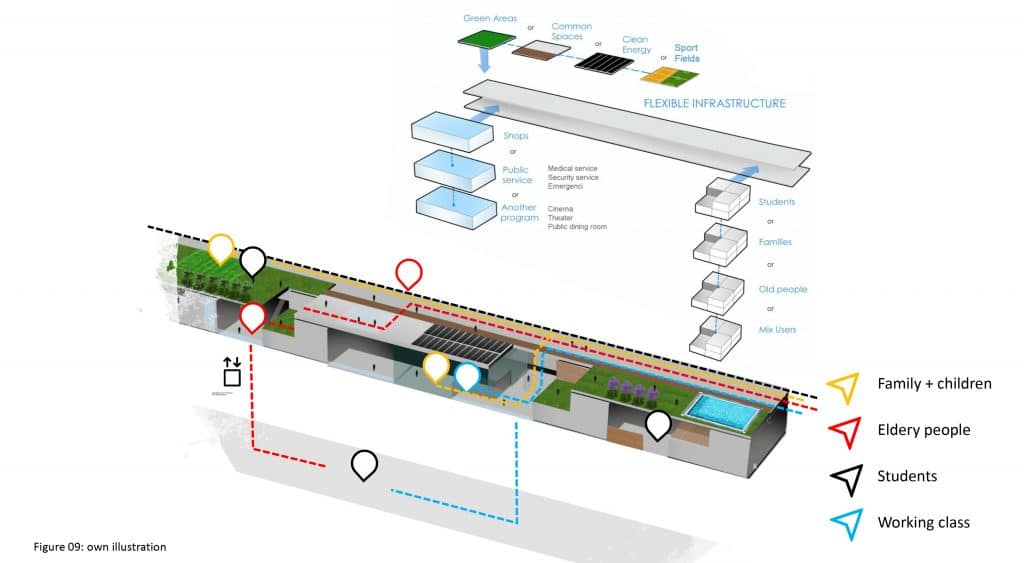 | | |
| --- | --- |
| Students: | |
| Julian Schulte | TU Kaiserslautern |
| Camila Korecki | UBA FADU, Buenos Aires |
| Randy Edson Román Morales | UTFSM, Valparaiso |
| Lucia Kandindi | Mzuzu University |
| Joy Delphine Hertel | HfWU Nürtingen |
| Laura Kleemann | HfT Stuttgart |
| | |
| Teachers: | |
| Prof. Flavio Janches | Universidad de Buenos Aires, Faculty of Architecture and Urban Design, Chair of Architecture and Urban Design |