Group C: Kaltental
Kaltental is since 1922 a district of Stuttgart that exemplifies many similar situations in Stuttgart: A former village that is today part of the city. It has lost many of the former functions (town hall, police, post office, shops, …) and has been extended to large residential areas. Today, Kaltental is more or less a typical suburban settlement or sleeping city. Like many other places in Stuttgart, Kaltental has also fallen victim to growing traffic: the former federal road cuts through the town and creates inhospitable spaces. Although traffic has declined since the passing of the tunnel, the road has largely retained its appearance. On the other hand, Kaltental still clearly shows that this was once an independent place with its own identity: located in a wooded area, Kaltental is still easy to read as an independent place. Two churches (one Protestant, one Catholic) determine the cityscape very strongly. A few shops and pubs give an idea of where the village center used to be. Occasionally there are still old courtyards between the residential buildings. Many green open spaces characterize the partly still noticeable village character.
The question is how we can strengthen the qualities of Kaltental and create space for upcoming new lifestyles, generational change and digitization.
Kaltental 2050 – from a village to a town
The valley is not just a topographical barrier, it is also a mental one, and the inhabitants have to deal with the steep hills in everyday life. Therefore, the student project sees the answer in Kaltental in the three major topics: mobility, connectivity and public space. The idea is to create a village on different levels with public spaces near mobility centers and a network of stairs, elevators and escalators. The levels can be used in many ways – temporarily or continuously – and also serve as an opportunity for shared activities and shared space. The "Nesenbach" is laid over the earth again and the tram goes one level higher and only on one track. Thus, the new tram bridge offers the possibility to set up new functions and to give Kaltental an urban character through various craftsmen, shops, cafes and restaurants.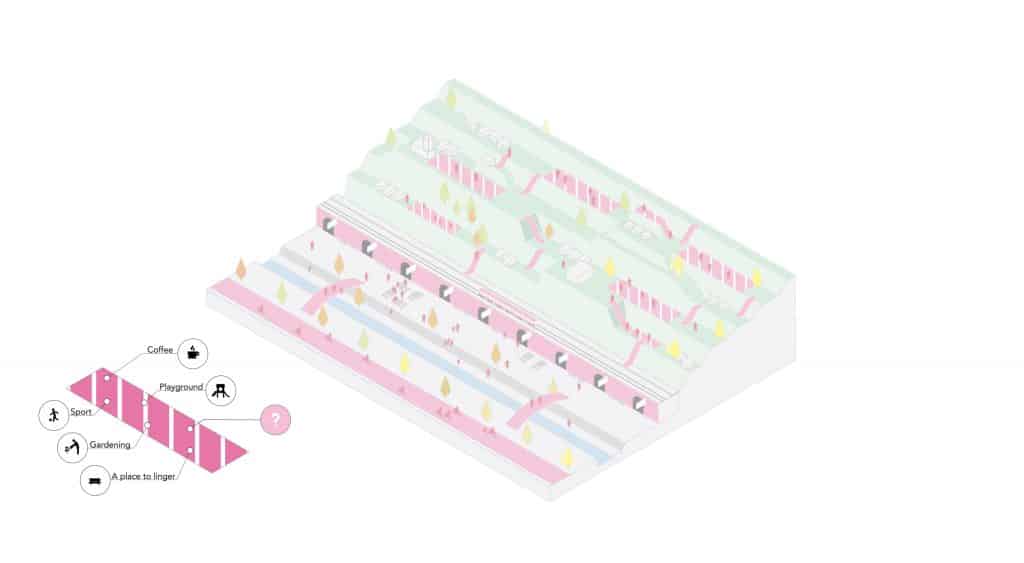 | | |
| --- | --- |
| Students: | |
| Arno Brugger | TU Wien |
| Aldana Gigena | UBA FADU, Buenos Aires |
| Lucía Francisca Maldonado Binimelis | UTFSM, Valparaiso |
| Moffat Harawa | Mzuzu University |
| Patrick Hippich | HfT Stuttgart |
| | |
| Teachers: | |
| Prof. Markus Vogl | University of Stuttgart – Chair of Urban Planning and Design |
| Sascha Bauer | University of Stuttgart – Chair of Urban Planning and Design |
| Harry Leuter | University of Stuttgart – Chair of Urban Planning and Design |